December 9, 2007
GENERAL
MEDIA
PARTNER

ITC Publishing – a publishing house issuing print and electronic editions for the consumers, enthusiasts and professionals in the most developed and dynamic industries: information technology; mobile communications; digital photo and video; Hi-Fi audio; electronic entertainment; printing; automotive.
"Compute Review" weekly was first published in 1995. Its audience includes experienced users and professionals in the area of information technology as well as those involved into production, servicing and selling of IT products and services.
The weekly offers the news and publications about the most recent developments, descriptions and test results of the new products, analytics, IT industry segments market reviews both in Ukraine and abroad.
"Computer Review" is an absolute leader among the Ukrainian computer media and has a substantial influence and respect in the IT community of our country. The journal has been recognized not only in Ukraine, but also abroad. It provides detailed overviews of the key events in the IT world. The edition has inspired a number of initiatives and awards, such as "Product of the year" and "Person of the year" in the opinion of "Computer Review". The publication defends the values of civilized world as well as promotes IT industry in Ukraine by boosting its popularity abroad.
---
GENERAL INTERNET PARTNER

Ukrainian search portal
www.meta.ua
started its operation on 12
th
of November 1998 and has become the major search system in Ukraine. The portal audience is more than 2 mln. of active Ukrainian users monthly. META indexes more than 140 000 Ukrainian web sites, its catalogue contains descriptions of more than 50 000 Ukrainian web sites and the users make more than 7 000 000 queries monthly.
META today is:
the only domestic full-text Ukrainian search engine;
the catalogue of Ukrainian web sites providing the overviews of more than 50 000 resources sorted by more than 500 subjects;
news search system МеtаNews (http://news.meta.ua/). Processing more than 10 000 news from more than 300 Ukrainian web sites daily;
the largest Ukrainian communication block including the forums system, web mail, blogs, photo galleries, social networks, etc.
special databases such as company catalogues, auto lists, train schedules, databases of essays, product lists, price lists, etc
---
INFORMATION
PARTNERS

developers.org.ua ― the project created by developers for developers. The aim of the project leaders is to create an on-line community for those involved into software development in Ukraine, no matter what technology they use and in which industry their company operates.
---

Ukrainian Banner Network – the powerful advertisement banner exchange network. Founded in January 1999, serves more than 50 000 Ukrainian web sites. Has an extensive range of formats and exhibits 35 000 000 banners daily. Membership is free for the web site owners. The Network also holds paid advertisement campaigns.
---
Organizer of Aaron Marcus's seminars in Russia

Information sponsors of seminars in Russia: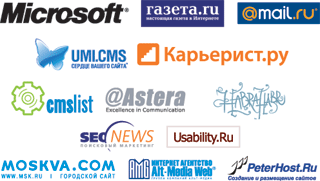 Partner & co-organizer of seminar in St. Petersburg