December 14, 2007
Date, location: February, 14, 2008. Kiev.
Duration: 4 – 8 hours (any number of participants)
Upon completion each participant will receive a certificate signed by Aaron Marcus.
The company may select the most efficient format of consultancy:
training;
questions – answers session;
urgent questions consulting.
Corporate trainings upon request
User interface development with Web 2.0


What is characteristic for the popular Web 2.0 sites? How did they change traditional principles of user interface.

- Social networks.
- Configurations that the user may tune.
- User generated content: video, photo, music, links.
- Popular trends: informal style, colors, animation.

Mobile user interface development


Participants will get an understanding of the current status of user interface development for mobile products / services, including applications for mobile phones / PDA's, navigation systems, cars, music and video players. Key technology, social, cultural and business aspects of user interfaces, special techniques used when designing and analyzing mobile products and services. Special attention is paid to visualization and design of information.

Meeting user expectations by analyzing the needs / UI purposes

User interfaces often fail due to the fact that they were developed according to only technical and functional specifications without user involvement. The training will explain how to make the user a central figure of the design process in such a way that technical and functional specifications were significantly and comfortably reflected in user interface.

- How to analyze the users.
- User model components.
- User model description.
- Tasks analysis.

Fast solution of Internet application UI tasks with the help of templates


Templates are used to solve recurring problems in Internet applications development. This training will deal with the templates design and the ways of their use in developing compatible and effective applications.

User interface template definition

- User interface template structure
- User interface template examples

Is your design usable? What role does the user testing play?


Design without trustworthy end-user related information is highly risky because false perceptions about the user needs and behavior may result in bad usability. This lecture will present user testing methodology that is aimed at helping to build a user-friendly design.

- Who should be tested?
- What should be tested?
- When should testing be done?
- How should usability testing be done?
Contacts:
+380 458 1753
e.egorova@it-online.ru
| | | |
| --- | --- | --- |
| General Media Partner | Information Partners: | General Internet Partner |
| | | |
| | | |
Organizer of Aaron Marcus's seminars in Russia

Information sponsors of seminars in Russia: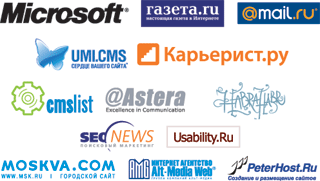 Partner & co-organizer of seminar in St. Petersburg