June 30, 2020 4:00 pm - June 30, 2020 6:00 pm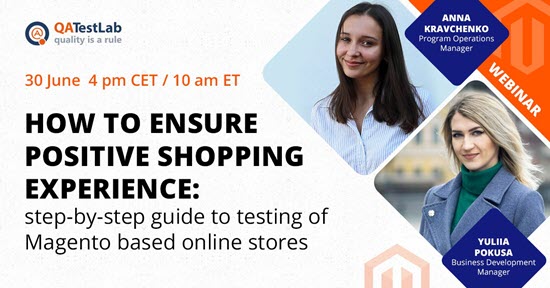 There is no second chance for an online store to make the first sale if a visitor has a bad experience – slow page load, chart errors, inconvenient navigation, etc.
Ensure that your Magento based online store creates a favorable user experience and makes good sales by checking all issues of its functioning.
Join the webinar with Anna Kravchenko, QATestLab Program Manager, and find out all crucial aspects of the testing of Magento based online stores:
- how to start and what types of testing to implement
- who is a Magento tester
- what bottlenecks especially need to be checked
and more!
Using all these aspects, you can get the best quality of your e-commerce project built by Magento.
The webinar is free, but registration is required.