March 25, 2016
ELEKS' virtual reality project, a web-based 3D holiday game, gets further industry recognition by winning the People's Champ vote in a reputed international award program, the Pixel Awards.
ELEKS, a trusted global organization that provides offshore, full-cycle software product engineering services, is pleased to announce that the company's recent digital project, a multi-device WebGL virtual reality game, has been named the People's Champ Winner by the 10th annual Pixel Awards.
Based on the votes of the digital savvy audience, Back2Pack became the absolute leader in the Experimental category. Developed as the company's interactive greeting for the winter holiday season at ELEKS' R&D Lab, the game is an ingenious technical solution.
To get the most fun out of the virtual reality experience, the user inserts a smartphone into Google Cardboard to serve as a screen when the second smartphone is used as a game controller.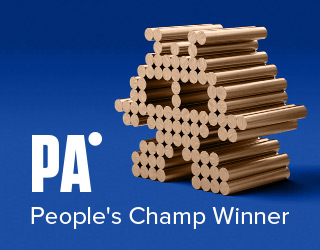 Each year, the Pixel Awards rewards and elevates exceptional design and technology that help inspire and advance the digital production industry. A team of highly reputed experts selects the winners in 21 categories that cover multiple domains of digital creation in life and business.
In addition to the 21 winners, each year the Pixel Awards announces 21 People's Champs – one in every category, voted on by the web community.
Oleg Gasioshyn, Creative Director at ELEKS and the author of the idea, commented on the achievement,
"Our work has been recently recognized by industry experts, when the game was named the FWA Mobile Site of the Day, and now we are delighted that it is appreciated by the general public as well. Alongside our goal to deliver solutions that combine technological excellence and real business value, we are motivated to make things our customers and end-users love".
About Pixel Awards
Pixel Awards is a leading international award program honoring notable design and technology since 2006. The Award's audience of makers and inventors – whether they are brands, designers, technologists or business owners – make some of the best work in the industry and include globally recognized names from digital production, advertising, fashion, consumer goods and other industries.
About ELEKS
ELEKS is a trusted global organization that provides offshore, full-cycle, software product engineering services, from ideation to finished products.
Since 1991, we've been helping businesses innovate and build advanced software products that matter, leveraging technologies such as Data Analytics, the Internet of Things, mobile applications and wearables.
Our award-winning solutions have significantly contributed to the success of our customers, including Fortune 500® companies, and are recognized as a valuable part of international best practices.
Our delivery organization, consisting of approximately 900 professionals in Eastern Europe, is strengthened by a local presence in the U.S., Europe and the UK.
Source: ELEKS