October 21, 2018
QATestLab, an independent provider of QA and software testing services, attends Kyiv Outsourcing Forum, the largest event in the field of IT outsourcing in Ukraine.
For the 9th year, Kyiv Outsourcing Forum has been bringing together prominent outsourcing industry figures, providing an arena for exciting discussions and exchange of experience.  
This year the conference will gather more than 500 CTO, CEO, CFO, COO from Ukraine, Israel, Germany, and other European countries.
There are 5 conference streams:
Outsourcing Business. Covering market opportunities in Ukraine, strategies of company development, access to new markets, stability, PDS 2.0, business infrastructure building and improving.
Business Development, Sales & Marketing. Covering an effective marketing strategy, organization and implementation of sales processes, financial management, and customer relationship management.
Organization Development. Covering company growth, relations between partners, building up of PMO, management system, HR, corporate culture, education, recruiting, infrastructure, taxes, contracts.
New Tech. Covering the innovations in technology marketing: Internet of Things, Blockchain, AR/VR.
Workshops.
Traditionally, in addition to mentioned above 5 streams, there will be an opportunity to visit Kyiv offices of the best IT companies and set private meetings with the conference speakers.  
In general, 10 previous outsourcing forums were attended by over 2000 participants. As a result of participation in previous conferences, the attendees report the increase in the number of employees in their companies, M&A agreements, improvement of the organizational structure,  the increase in the flow of customers, creation or enhancement of the company's development strategy.
Key speakers of the Outsourcing Forum: owners and directors of IT outsourcing companies, experts-practitioners, representatives of customers of outsourcing companies, product and consulting companies.
Meet QATestLab team – Marina Savchuk, Business Development Manager, Ostap Osipenko, Partnership Manager, and Mariya Kvitkovskaya, Head of Marketing, at Kyiv Outsourcing Forum.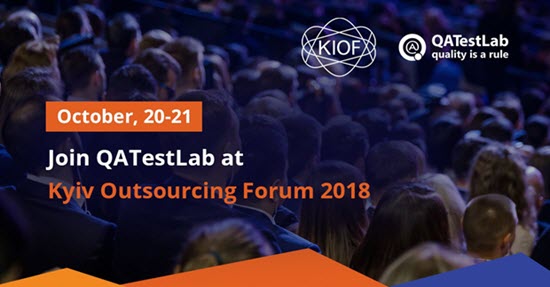 About QATestLab
QATestLab is an independent provider of QA and testing services. The company provides a full range of software testing services including test management, consulting, test documentation, and quality assurance. It provides the services of quality evaluation of the solution for such industries as e-commerce, e-entertainment, tourism, logistics, e-learning, e-banking, and government.
Source: QATestLab