September 5, 2019
Ukrainians Roman Kirdanov and Aleksey Rozenkov launched intellectual property marketplace UNI.UA (Ukrainian National Intellect).
This is a marketplace of objects of Ukrainian art and national heritage. On the website, anyone can buy the rights for commercial use of digitalized copies of paintings, videos and other objects of intellectual property. Therefore, owners of objects of art will be able to monetize their work or private collections.
The idea to create a project in the sphere of Ukrainian art came to partners when they noticed that Ukraine is not present in Google Arts & Culture. In 2015, IPS created a record-keeping system for intellectual property, collection, and distribution of royalties, and in 2018, UNI.UA was built on its basis. The project received support from the Ukrainian Cultural Fund.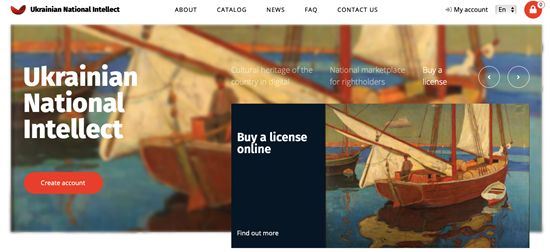 The online platform consists of three sections:
Registry of objects of art or national treasure.
An e-commerce mechanism for the sale of licenses for the use of such objects (royalty collection).
The mechanism for distribution of royalties between copyright holders.
The mission of UNI.UA is to connect consumers with copyright holders. Moreover, not only in the Ukrainian market but internationally. As the founders of the project put it, currently there are many intermediaries between the parties, which makes the working mechanism long and opaque. The marketplace will bring them face to face.
UNI.UA marketplace allows authors to earn money off their work and make themselves known to the world. And museums and owners of private collections can monetize their wealth.
The cost of the license is determined by its owner. Non-commercial use does not require a license, so the price will include only the cost of preparing a digital copy.