November 25, 2016
For the second year in a row, the IT Biz Awards has recognized IT professionals in management, sales, and marketing. They have also acknowledged several companies for contributions that have made an impact on technology and society while also promoting Ukraine as an IT nation. With help of industry experts and the IT community, they showcased professional victories as a means of inspiring others.
Yuri Warczynski became the tech CEO of the Year in Ukrainian IT BIZ Awards, he made his company grow from 75 to 150 people in 18 months while improving margins without any marketing involved. Curious how he did this? He has shared his own approach to management with us.
Profile
Yuri Warczynski is CEO of HYS Enterprise and Co-Founder of Epicflow. Yuri runs HYS, a Dutch-Ukrainian IT company with an office in Odessa, Ukraine.
HYS Enterprise provides software development services to telecom, financial technology and other business sectors. The company has also developed their own startup, Epicflow, which was selected for the 2016 Web Summit ALPHA Programme in Lisbon, Portugal. Epicflow is an analytical SaaS platform for dynamic multi-project environments and allows one to have control over resource planning while achieving multi-project goals on time.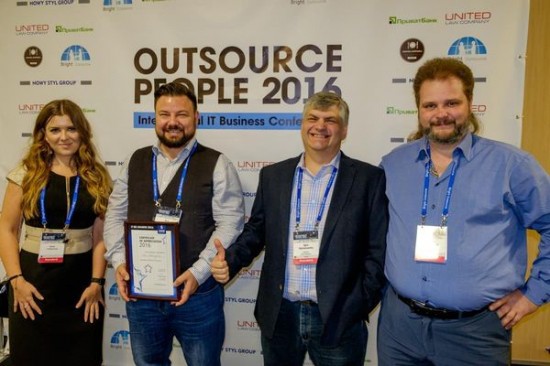 Yuri Warczynski with the team
"Dick Hackborn, the former HP Chairman of the board who led HP into the printer business, once said that Top Management has two tasks, and they are spotting the waves of opportunity and leading the company in riding them.
Even before finding this quote, which is very precise and to the point, it has been my belief that a top manager, in this case a CEO, should see opportunities in the market, formulate a vision, and create a capable ecosystem inside the organization.
Thoughts in this direction have led me to the 4A management principle that is being used in HYS Enterprise today. These are the 4 A's that management should continuously provide to their people in order to be a successful organization:
A vision
Authority
Autonomy
Appreciation
In the last 18 months, the company has doubled its size and now employs 150 people. This growth has been achieved without any marketing or advertising budget. The most important thing you notice when you walk into HYS Enterprise is that everyone knows exactly what they have to do and why. Not only when everything goes according to plan, but especially when it does not. The organization is all tuned to the same "wave" and is able to react to unexpected situations in a dynamic way.
It would take a small book to inform someone about all the things that we have done (even in the last 18 months). Please allow me to describe a few of them.
We started with a vision that customers will bring in new customers if we can make them happy. In the business world, "happy" means that you can reach the client's business objective on time and on budget.
After 20 years of IT projects, I know how difficult this is. Even if you don't know anything about IT projects, the two things you should understand are that the uncertainty is huge, and the failure rate is even bigger.This is also the reason why so many in the IT business either sell developer hours or engage in an extensive requirements-capturing phase, by the end of which requirements may well have changed. Both of these approaches put the problem on the customer's side, and this leads to frustrations that are often accompanied with time and budget overruns for the client.
We realized if we were to be distinctive in the market and make the customer happy, we had to take a different approach. We had to find a way to take all the risk and deliver on time at a fixed price.
The direction of the solution lies in an unprecedented capability to manage capacity as well as an ability to determine the focus on an operational level. We had to know who should work on what, and we had to be able to update our assumptions every day as reality (and "murphy") kicked in. With existing methods it was impossible to carry out these calculations daily, and there were no tools on the market capable of doing so, making it necessary for us to build a new paradigm.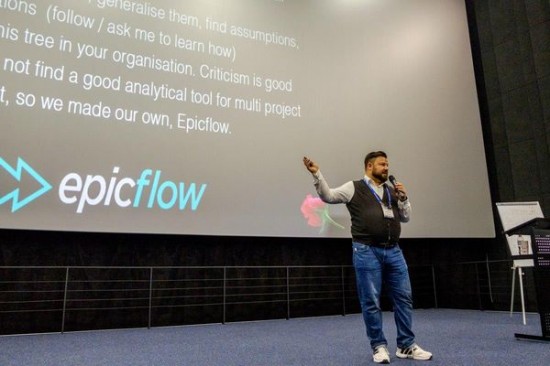 Yuri Warczynski with a presentation on Outsource People Conference 2016
This is how our product and startup company, Epicflow, came to be. The next step is to bring this power to the World's outsourcing IT companies.
So far the reception has been unbelievable. After my presentation regarding our approach at the IT Biz Camp conference in Kharkiv, Ukraine, almost every speaker expressed gratitude to us in their own speech. It has also been chosen by Web Summit to appear in Lisbon this November.
I will have to tell something about the other 3A's in another format at another time because it would take too much space.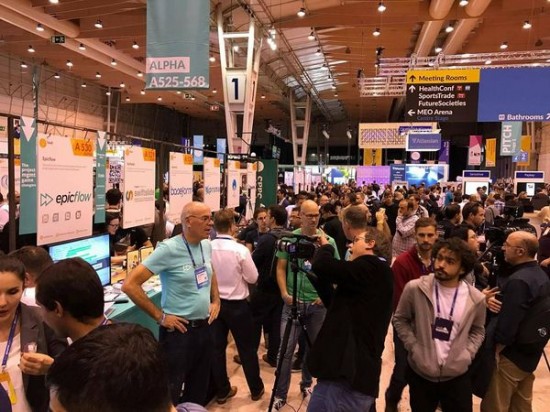 Epicflow at Web Summit 2016 in Lisbon
I'm happy to accept this award on the behalf of the wonderful people I work with as a token of trust from the industry. My intention is to take our success and empower our businesses to "eat fixed price projects for breakfast.""