May 16, 2019
As a global leading technology company providing custom software application development, distributed professional teams, software product quality assessment, and "all-things-digital" solutions built with SMAC, RPA, AI/ML, IoT, blockchain, and GIS/UAV/LBS technologies, Intetics invented the business model of Offshore Dedicated Team and Remote In-Sourcing, an advanced Technical Debt Reduction Platform.
Intetics was awarded a spot in the list of Top Outsourcing Companies in Poland created by the Manifest.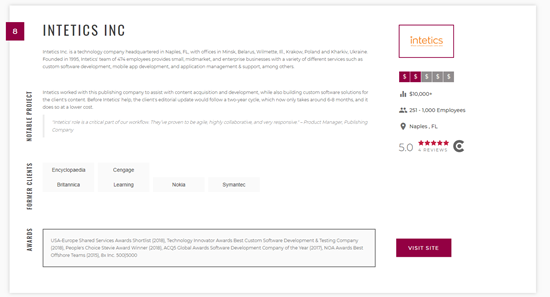 The Manifest (a sister company of Clutch) is a business news and how-to website that compiles and analyzes practical business wisdom for innovators, entrepreneurs, and small and mid-market businesses. Based on service reviews and ratings, the Manifest analysts thoroughly evaluated each company on their presence in the industry, services and expertise, and the ability to deliver exceptional results to their clients. Intetics achieved 8th position.
Most valued, were clients' feedback, who provided detailed, honest reviews of their experience working with Intetics. Clients were interviewed on a 1-on-1 basis, informing the analyst team about projects delivered and the positive impact of services. Here a just a few remarks clients mentioned on Intetics profile:
"The quality of Intetics's engineers and their designers and the speed at which we got them on our team made them a better choice than any company we've tried before." – CEO, Web Design Agency
"I can tell you that we find the work and the relationship of clearly higher quality and consistency than other providers in the marketplace." – Jeff Toewe, Binary Parcels