January 4, 2020
Intetics is a global tech company that provides custom software application development, Software Quality Assessments, and "all-things-digital solutions".
In recognition of our efforts, Intetics has been named as one of the best development companies across the globe and has earned a spot on the Clutch 1000. This is a comprehensive directory of the top B2B service providers across the globe, verified by Clutch's research.
With over 160,000 vendors listed on their platform, they are proud to report that we fall in the top 1%. They are number 987 on the list, one out of over 100 custom software development companies around the world, but the only vendor listed from Naples, Florida.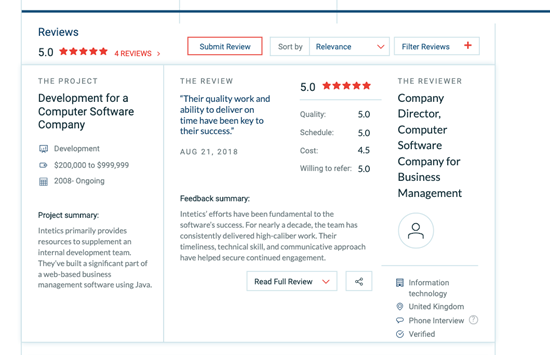 For those who may not know, Clutch is a B2B market research firm that uses a unique rating methodology to rank leaders across industries.
Intetics is also highlighted on The Manifest, a business data platform that improves brand recognition through business data. Visual Objects, a company portfolio site that boosts visibility for numerous B2B vendors, lists them on their list of top custom software developers as well.