June 1, 2016
June 14, Innovecs is travelling to the Israel Mobile Summit 2016! Alex Lutskiy, CEO & Co-founder of Innovecs, Gerry Michaeli, Managing Director of Innovecs in Israel and Iryna Chubur, VP of Marketing & PR will represent the company at the premier annual mobile event in Israel.
This full day event is a highlight for the Israeli mobile industry, attended by over 2,000 remarkable mobile industry minds. Innovecs became a sponsor in order to support this major event for the software industry.
Alex Lutskiy will share his opinions and experience during the panel discussion "The App Lifecycle in the new world".
"The world is turning towards mobile and this influences our lives day-to-day. Mobile is one of the key areas of expertise we offer and develop. Our company is focused on Gaming, Adtech, Fintech, today.

We work closely with our core clients, sharing expertise in exactly these areas. We design mobile apps using all popular operational systems such as iOS, Android, Blackberry, and Windows. One of our core strengths is our speed to market. Innovecs is an outsourcing software development company and despite our remoteness we dive deep into our clients' businesses to provide outstanding delivery."
– says Alex Lutskiy, CEO & Co-founder of Innovecs.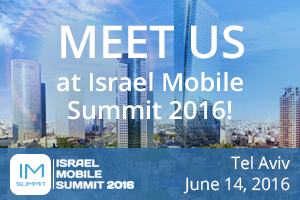 Innovecs is a US technology outsourcing company with R&D facilities in Ukraine. We specialize in Adtech, Gaming, Fintech, E-commerce, Logistics, Telecoms and Healthcare.
The company is focused on cutting-edge technologies such as Blockchain, Cloud/SaaS, Mobile technologies and BI & Big Data. We don't just offer products but become a partner for our clients to help them to build successful and scalable businesses. Our philosophy is to exactly fulfil our clients' needs and always go the extra mile to exceed their expectations.
Don't miss the chance to learn more about outsourced mobile development first-hand at Israel Mobile Summit 2016 from Innovecs!
To schedule a meeting please contact:
Elena Mintyan,
Marketing Specialist
Source: Innovecs