June 23, 2019
Infopulse proudly announced it has won the 2019 Microsoft Country Partner of the Year Award for Ukraine. The company was honored among a global field of top Microsoft partners for demonstrating excellence in innovation and implementation of customer solutions based on Microsoft technology.
Awards were presented in several categories, with winners chosen from a set of more than 2,900 entrants from 115 countries worldwide. Infopulse was recognized for providing outstanding solutions and services, as well as representing excellent subsidiary engagement in Ukraine.
For Infopulse, working together with Microsoft is a key to our business transformation. We have reached an important milestone in our strategy of cooperation with Microsoft, as we develop and refine our portfolio of services based on the Microsoft platform. Being a Microsoft Certified Partner for 15+ years, Infopulse has evolved far from being a supplier of selected services based on specific engagement models. As our core partner, Microsoft helps Infopulse to conduct an internal transformation of both our business and strategy of cooperation with our clients. By aligning efforts with Microsoft, Infopulse could shift our business model to providing holistic solutions built with Microsoft technologies and establishing full-scale partnerships with our clients. With strong support from Microsoft, Infopulse is happy to become a part of our clients' success.– Alexey Sigov, Infopulse President
For years, Infopulse has been helping its clients embrace Microsoft cloud products with superior business value. Infopulse addresses the entire Microsoft solution lifecycle and provides the widest range of Microsoft services and solutions. One of our core offerings is Azure service for SAP products, which helps our clients boost their SAP systems through migration to Azure with enhanced agility, lower TCO and storage expenses, higher availability and innovation. By joining forces of Infopulse Cloud Service Line with our SAP Competence Center, and through close collaboration with Microsoft and SAP, Infopulse is a one-stop shop for full-cycle Microsoft and SAP managed services.
As a leading innovator, Darnitsa invested more than EUR 200 million in R&D, technology and equipment during 2008-2018. We believe that Digital Innovations should influence all the aspects of the business – strategy, operations, and at the end of the day – the entire enterprise. Thus, Darnitsa continues investing in digital transformation and new technologies. Our partners at Infopulse were instrumental in helping us with our latest cloud migration project. Fast, reliable, and cost-effective, migration of our SAP systems to Microsoft Azure has already demonstrated immediate results, improving and speeding up our internal processes on numerous levels. On behalf of "Darnitsa", I would like to express our gratitude to Infopulse and congratulate them on getting the prestigious Microsoft award.– Dmytro Shymkiv, Chairman, Executive Board of the Managing company "Darnitsa"
The Microsoft Country Partner of the Year Awards honor partners at the country level that have demonstrated business excellence in delivering Microsoft solutions to multiple customers over the past year. This award recognizes Infopulse as succeeding in effective engagement with its local Microsoft office while showcasing innovation and business impact, driving customer satisfaction, and winning new customers.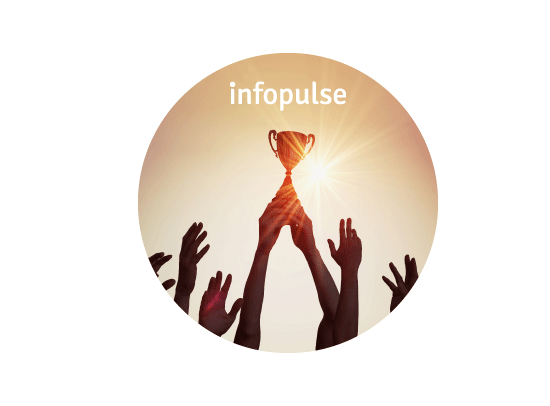 "We are honored to recognize Infopulse of Ukraine as a Microsoft Country Partner of the Year," said Gavriella Schuster, corporate vice president, One Commercial Partner, Microsoft Corp. "Infopulse has distinguished itself as an exemplary partner, demonstrating remarkable expertise and innovation to help customers achieve more."
The Microsoft Partner of the Year Awards recognize Microsoft partners that have developed and delivered exceptional Microsoft-based solutions over the past year.
We see the Microsoft Partner of the Year Award as a result of our continuous effort and a confirmation that we are on the right track in the development of our company business. This award will allow Infopulse to direct our efforts towards the key focus areas, such as providing complex end-to-end solutions for digital cloud transformation, managed cloud services, apps & infrastructure migration, SAP on Azure, cognitive solutions, DevOps, and others. As a celebration of our success, we strongly believe that this is an amazing opportunity for Infopulse, as it opens the road to a brand new journey for us and our customers. Through collaboration with Microsoft, we move away from a classic service outsourcer paradigm to becoming an integral partner of our clients, as we provide the full cycle of integration and support of custom business applications built with Microsoft tech stack. Together with Microsoft, Infopulse ensures that our clients can focus on the key aspects of their businesses, while we take care of the rest.– Ivan Musiienko, Head of Cloud Service Line at Infopulse
Product or service names mentioned herein may be the trademarks of their respective owners.