July 5, 2019
Metinvest Holding, an international mining and metals group, together with SAP and Infopulse, have recently completed the transition of Metinvest's SAP infrastructure to SAP HANA Enterprise Cloud solution (SAP HEC). The massive digital transformation project won the Silver Trophy in SAP Quality Awards 2019 among the countries of Central and Eastern Europe.
A long-term trusted Partner of SAP, Infopulse has established one of the strongest SAP Competence Centers in Ukraine. SAP together with Infopulse helped Metinvest Holding to implement the global migration of its 138 SAP systems to SAP HANA Enterprise Cloud platform. More than 18,000 end-users benefited from the transition to the SAP cloud platform.
The SAP cloud transformation project of Metinvest's SAP infrastructure won Silver in Innovation Category in SAP Quality Awards 2019, excelling among hundreds of other projects and receiving the high appraisal from the jury. Being the first transition to the SAP Enterprise Cloud platform conducted in Ukraine, this SAP cloud transformation project became the largest in volume across Central and Eastern Europe.
Awards of the international level are not only the reason to be proud of for Metinvest and Metinvest Digital teams, they are also the proofs that we will achieve success on the way to digital business transformation and a confirmation of the maturity of our digital solutions. – Serhii Detiuk, CEO of Metinvest Digital
Infopulse is honored to be a part of Metinvest triumph. As a Certified Partner of SAP, Infopulse sees its mission in solving the most demanding challenges of our enterprise clients around the world. As a key determinant of competitive advantage, SAP solutions are ultimately essential for business success. We've set very high standards for Metinvest SAP HANA Enterprise Cloud migration project, and are very happy with the results. This award is a fundamental milestone in our continuous close cooperation with SAP, and evidence that we are moving in the right direction. – Ruslan Kulyk, Infopulse Head of SAP Practice
The official SAP Quality Awards 2019 ceremony was held on May 29, 2019, in Prague, Czech Republic during the SAP Now 2019 forum.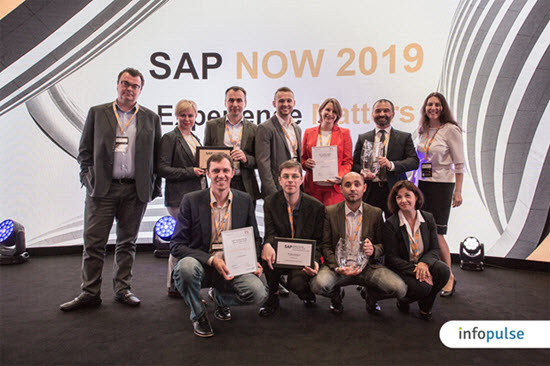 About SAP Quality Awards
SAP Quality Awards is a prestigious competition since 2010. Each year, more than 200+ SAP projects are nominated in three categories: Fast Delivery, Business Transformation, and Innovation. Hundreds of projects in each of categories are evaluated by the independent jury based on success in the implementation of 10 core SAP Quality Principles. Three best projects are then selected in each of three categories, receiving honorable Gold, Silver and Bronze Awards respectively. In 2018, more than 280 clients of 15 SAP markets took part in the competition.
About Metinvest Holding
Metinvest Holding is an international vertically integrated mining and metals group. The Holding possesses mining and metallurgical assets in Ukraine, Europe, and the US, complemented by a global sales network. Metinvest manages the complete production chain, from extracting iron ore and coal to manufacturing semi-finished and finished steel products. Headquartered in Ukraine, Metinvest Holding has sales offices and service centers in 80+ countries and serves more than 10,000 customers around the world.