October 29, 2018
Infopulse announced the launch of a new delivery center in Warsaw, Poland. Expanding the company's presence in the European Union was a top priority aim of the company, determined in Infopulse's strategy for 2017-2019.
At the beginning of 2018, Infopulse has expanded its presence in Bulgaria by launching a dedicated delivery center for a number of projects with our long-term partner, a large German Enterprise Software Corporation.
In fall 2018, Infopulse opened a delivery center in Warsaw, Poland, under the brand name Infopulse Poland. The newly formed company will be managed by the board of directors: Andrey Anissimov (Infopulse CEO), Eugene Novikov (Infopulse VP of Corporate Development), and Anna Thea Hval (EVRY VP of Staff). Infopulse Poland will focus on expanding our effort in delivering innovative Digital Transformation and Telecom services for our EU clients.
With delivery centers in Bulgaria and Poland, Infopulse has now completed its transition from a company with international customers to a company with an international presence.
Andrey Anissimov, Chief Executive Officer
In the last 3 years, we invested a lot of effort to expand our presence in the EU. Poland was one of the locations we deemed very promising for the realization of our growth strategy. A necessity to launch a delivery center in Poland was driven by the following:
GDPR rules came into effect, limiting the company's abilities to deliver its services to EU clients.
Getting access to a rich talent pool in another country would further boost the company's growth.
Being even closer to our clients in terms of proximity and mindset would facilitate communication and improve cooperation.
Lastly, having a branch in Poland will help us obtain an absolutely different, fresh business development experience and, naturally, establish new partnerships and create new successful business connections.
I am happy that our vision and efforts have finally translated into reality. Having two fully functioning delivery centers in the EU gives us a serious ground to activate business development processes with clients from the German-speaking countries, as well as those from the Nordics, where GDPR rules are taken by local businesses extremely seriously.
Eugene Novikov, Vice President (Corporate Development):
For quite some time we have been exploring options to grow our business outside of Ukraine. This year marks a symbolic milestone, when our mother company EVRY acquired Findwise, one of the leading Big Data, Data Science and BI service suppliers in the Nordics. This helped us to accomplish our strategic growth plans in the EU. With an invaluable assistance of Findwise Poland, we launch a new company under the brand name Infopulse Poland. For Infopulse, setting up a branch outside of Ukraine is a step into a next great journey. Europe and European businesses have a lot to learn from in terms of business organization, offering almost limitless possibilities. This is a perfect chance for us to operate from within a completely different market, featuring a different mentality, culture, and legislation.
Lyubov Yudenko, Vice President (People Operations):
With the launch of our new delivery center in Poland, we have a perfect chance to set up this location from the ground up. This, however, presents a number of challenges for us. In order to launch all processes on time, we are now entering in a close collaboration with local companies and recruiting agencies in order to build a successful brand recognition strategy. Governing functions are currently provided by Findwise Poland, an EVRY Group company. Paweł Wróblewski, Findwise Poland Regional Manager, has been appointed an acting regional manager of Infopulse Poland to help us solve various administrative challenges. In due course, we expect our new branch to become more autonomous, and with the company's growth we will expand the presence of managerial staff there.
Ganna Pyrogova, Account Manager:
nfopulse and our client, one of the largest EU Telecom providers, aim to establish a close cooperation in an extensive number of business areas. The services to our client will be conducted from our Polish location for the sake of better compliance with GDPR regulations. At the moment, we are preparing the ground for this collaboration, as Infopulse expects to be engaged in almost all business areas of our customer: Telecom Engineering, Software Development, IoT, Network Engineering, System Administration, Big Data, Security, AI, and Cloud Services. Polish Telecom Market has a lot to offer in terms of groundbreaking technological advances. If our efforts in Poland are at least on the same level as those in Ukraine, cooperation between Infopulse and EU Telecom Giant has a great potential to be very productive.
Andrew Strazhnikov, Executive Vice President (EVRY Sweden):
A new branch in Poland highlights an important milestone in company's development outside of Ukraine and within the EU territories. With a delivery center in Warsaw, Infopulse gains a significant competitive advantage, and, as a result, an important boost to the development of our EVRY Digital Platform Services, EVRY BA Sweden, as well as EVRY BA Norway. In regards to the service offerings, we are planning to start off with a number of cloud transformation projects, IT Infrastructure services, Application Operation and Management, and solutions for Digital Workspace Transformation. Polish location will primarily be used to cooperate with those of our clients who need to address specific data protection guidelines to comply with GDPR rules. These are mostly companies from Public Sector, Government, Finance, and Banking industries. Delivering services from Poland is expected to be very prospective, offering us immense business opportunities.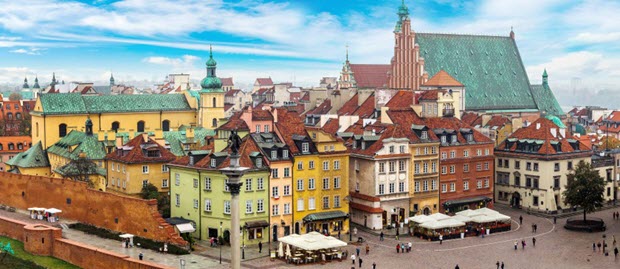 Source: Infopulse