October 6, 2022
Even in the midst of a war, Ukraine's software developers continue to demonstrate the skills and drive that set them apart. Check out the top 8 reasons that prove there's no better place to hire software developers.
Do you have a great product idea to bring to market but need support to develop it? Or maybe you need to grow your team to maintain and expand your product's features? The software developer shortage has made it harder than ever to hire high-quality engineering and tech talent. 
The Tech Talent Shortage
There has been a lack of qualified candidates to fill open job positions in the last couple of years – in fact, in 2019, U.S. companies had around 1 million unfilled IT jobs, failing to find the workforce necessary for the scope of work. The situation is unlikely to change in the future as software developer employment is projected to grow 21% in the US alone by 2028, which is faster than the average projected rate of growth of 5% for other occupations.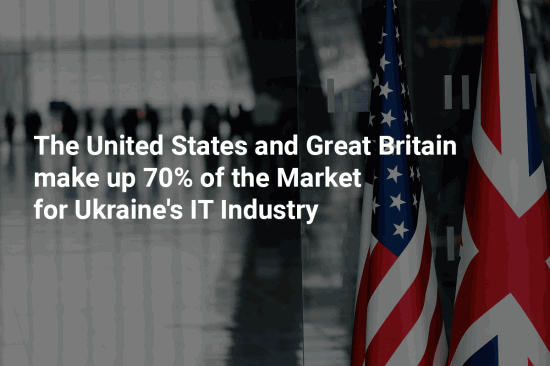 To bridge the gap of available developers, more technology companies are moving their research and development abroad. Companies such as Apple, Google, Microsoft, Oracle, Snap, Ring, Samsung, Huawei, Siemens, and BigCommerce are moving development to Ukraine and hiring from Ukraine's large tech talent pool. 
According to the Amsterdam-based company, Daxx, 20% of Fortune 500 companies have remote development teams in Ukraine. Why do so many global companies choose to hire in Ukraine? 
These companies know that developers from Ukraine are globally recognized for having the necessary hard and soft skills that set them apart from developers from other countries. Plus, Ukrainian developers offer high-quality coding and software development skills at a lower price point than their American and European counterparts.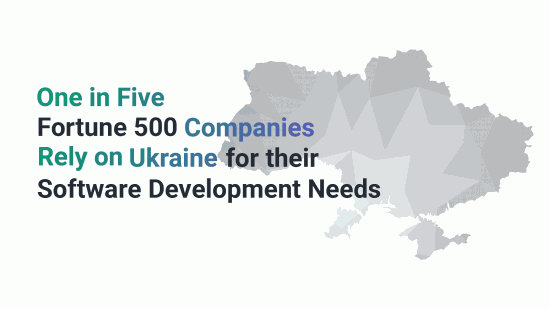 Why Consider Ukraine for Your Software Development Needs?
Ukraine ranks among the top ten countries in the world in terms of technological skills, so it's safe to say Ukraine has an incredible reputation in the tech industry. From Grammarly to GitHub, it's clear that Ukraine has had enormous triumphs in the tech sector.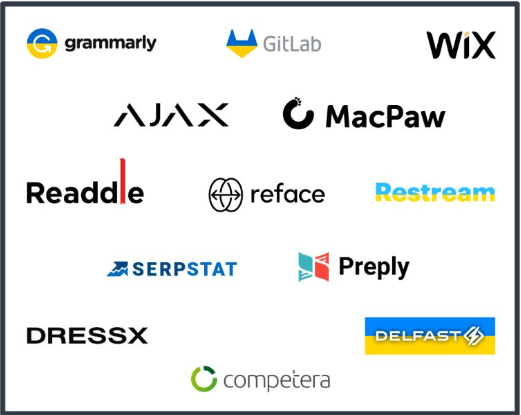 With over 285,000 Ukrainian developers in 2021 and an additional 25,000 people graduating from tech universities every year, the Ukrainian IT market is growing exponentially. When it comes to expanding your technical teams, Ukraine is a great choice to consider as there are many developers eager to work on interesting projects. 
Aside from the sheer number of developers, what else makes Ukrainian programmers stand out? Here are the top reasons to hire software developers from Ukraine:
Wide Range of Technological Knowledge
Ukrainian software developers have expertise in many technologies. Do you want to hire developers to build your Java-based application? No problem, tens of thousands of talented developers in Ukraine have deep knowledge of Java. Do you intend to focus on Python development? Ukraine's tech sector has you covered. From performing tricky migrations to smoothly upgrading your Elasticsearch, Ukrainian software development teams are skilled in a wide range of programming languages and frameworks.
Ukrainian programmers use extensive coding languages and technologies, including but not limited to JavaScript, Java, C#, Python, PHP, Typescript, Swift, Ruby, and Kotlin. Not to mention that the country is home to the largest community of C++ specialists in the world!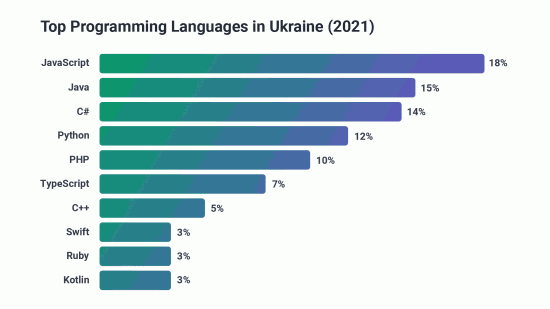 More than half of Ukrainian programmers work in the back-end, with almost 20% doing web or front-end, and about 8% in mobile development. Not to mention the many others who specialize in data processing, desktop, system, QA, and more.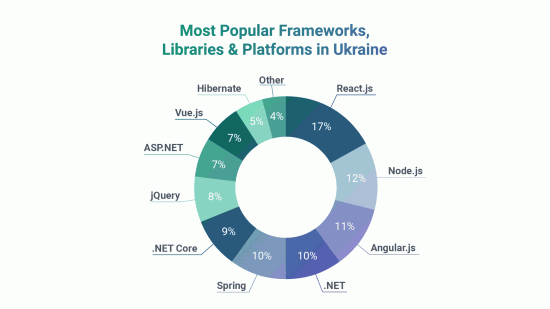 Specialized industry knowledge is something that separates many Ukrainian developers from the rest of the pack. While banking and fintechs are currently the biggest client industries in Ukraine, there are many developers with deep expertise that specialize in industries from Media & Entertainment to Digital Health.
Experienced in Tech
When you hire Ukrainian programmers, you can count on them to be experienced with high qualifications, with about 42% of developers being mid-level and 26% at the senior level. 17% of developers in Ukraine have 5 to 10 years of experience, nearly 30% have over 3 years of experience, and only 1% of developers have a year or less of experience.
High-Quality Code
Ukrainian developers were identified as the most efficient at producing high-quality code by BlueOptima Global Benchmark's analysis. The 2019 Kearney Global Services Location Index pinpointed that Ukraine has better financial attractiveness than China, Poland, and India, with a cost efficiency rate nearly 10% higher than the latter. While Ukrainian IT initially was considered a low-cost offshoring destination, it now is recognized as a higher-end value-added work for systems architecture, business analysis, and experience design.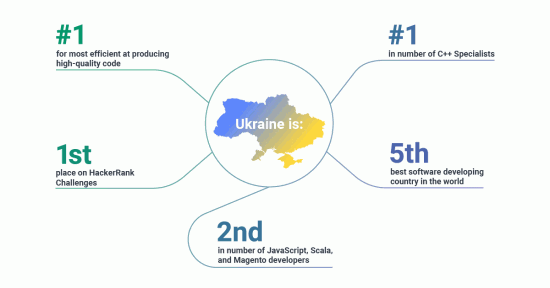 Ukraine's Pledge to its Tech Sector
IT services are Ukraine's third largest export, and their development sector exported $6.8 billion in IT services in 2021, which was a 36% increase from 2020. The government of Ukraine recognizes the importance of investing in its tech sector and creating laws to draw tech companies to Ukraine. Ukraine was ranked 17 in the Global Index Fund for software spending, and the country has minimal bureaucratic hurdles, favorable tax policies, and investments in education in the tech sector. 
High Technical Education Level
Nearly every Ukrainian software engineer has at least one or more specialized higher education diplomas, and many tech specialists also have a foreign education or experience working abroad. At Softjourn, over 82% of our employees hold a Master's degree or higher. 
Ukrainian developers are known for consistently honing their skills as 85% of programmers continue their learning with courses, by attending lectures and seminars, reading professional literature, and participating in events, competitions, and conferences. Over the next several years, more than 80,000 IT professionals will graduate with degrees, adding more software developers to the already strong workforce. 
Certified & Talented
Ukraine is recognized as a global leader in various tech rankings, and IT specialists from Ukraine often win in programming and software development competitions on the international level. 
For instance, Ukraine was recently ranked fifth in a league of the best software developers in the world and was ranked second in JavaScript, Scala, and Magento developers. When it comes to coding abilities, Ukraine is second to none. Ukrainian developers scored 88.7% on HackerRank Challenges, the highest score of all countries. All of this serves as evidence of Ukrainian programmers' high-performing level and top-notch expertise.
Proficient English Communication
When you hire in some countries, there is no guarantee that there won't be communication barriers that prevent project progress. However, in Ukraine, 80% of developers have an intermediate or higher command of English. Since English has been a mandatory subject in Ukraine for about 25 years, you will not have to worry about difficulties in understanding Ukrainian tech teams. Additionally, Softjourn provides regular business English lessons and one-on-one tutoring for our employees. 
Dedication & Drive
Ukrainian software engineers often have a passion and deep interest in technologies. Over three-fourths of engineers are enthusiastic about technologies and say they are driven by what they do for their job. It's been reported that more than 70% of IT specialists in Ukraine would work in IT even if they didn't need to earn money. You can be assured that the developers you hire in Ukraine will be motivated and excited about working on your project.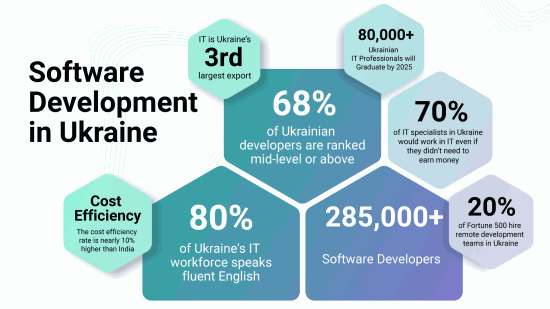 What Makes Ukraine's Software Development Teams Shine?
Softjourn is proud to have the largest R&D presence in Ukraine, and over the last 20 years, our international clients and team members have seen firsthand the incredible value, support, and dedication our Ukrainian team members provide in everything they do. 
The greatest strengths of Ukrainian tech teams include:

 Effective Communication

 Efficient Time Zone Adjustment (for US and EU Companies)

 Cultural Similarities

 Shared Values, such as time management, hard work, and integrity
 Ability to work independently or on a team
 Strong desire to learn

 Passion for technology
How Will the War with russia Impact Ukraine's Software Development Talent?
In February 2022, the Ukrainian tech industry set an unprecedented record of exports at $839 million. While russia's attack on Ukraine comes at a risk for some organizations in the country, the conflict does not have much effect on the country's technology sector. Nearly all tech companies in Ukraine have reported no disruption in their ability to deliver services, including our Ukrainian team at Softjourn. 
Even after the full-scale invasion, the tech sector maintained 96% of services exports when compared to March 2021, proving the country's technology sector will continue to thrive, with or without war. According to the National Bank of Ukraine, the country exported 23% more in IT services compared to the previous year, totaling a whopping $3.74.
Russia's invasion has also not stopped Ukrainians from enhancing their IT skills. Approximately 60,000 Ukrainians have registered for courses on Coursera since the start of the war, with the most popular being training for new tech sector professions. Ukraine also currently boasts a completion rate of 80% among those who sign up for courses on the platform.
A number of Ukrainian tech workers continue to work not only as a distraction, but because they realize that by continuing to work, they prove Ukraine's resilience, strength, and defiance of the illegal invasion. Plus, working allows them to support Ukraine's military, economy, and infrastructure.
Many tech companies in Ukraine, including Softjourn, have had contingency plans in place since russia first invaded Ukraine in 2014 to ensure safe, stable, and secure operations. The staff of most Ukrainian companies still have access to modern amenities such as electricity, water, internet, and heating supply, necessary for an uninterrupted working routine.
Softjourn has and continues to support their Ukrainian employees in Ukraine with flexibility, empathy, and financial support. The company works with our team members to consider the best plan for them and their families, whether it be relocating to one of their offices, working remotely in Ukraine or abroad, or serving in the army.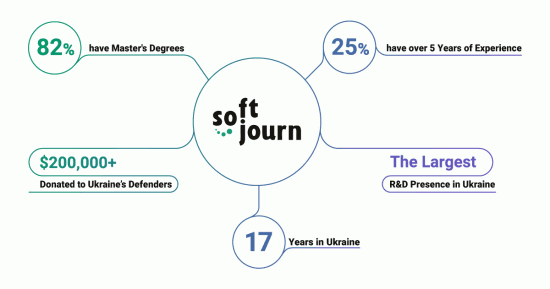 How to Support Ukraine's Tech Sector in 2022 and Beyond
For Western companies with strong ethics who want to make a difference, there is great potential to support Ukraine by hiring their software development teams. You can show your support by standing with Ukrainian business partners, licensing and purchasing products and services, and exploring new business and consulting opportunities to solve your tech challenges. Even small contracts can help Ukrainian companies preserve their workforce and provide economic support to individual workers. 
Investing in companies that actively employ Ukrainians is a great way to showcase your social responsibility while receiving great services. You can expect that the funds you pay won't go to waste, as most Ukrainians are continually donating parts of their salaries and volunteering. 
Ukraine's tech community has spent decades building industry knowledge, and this will not be destroyed by the war with russia. If you'd like to learn more about how you can support Ukraine's tech sector, read Softjourn's article which was featured on TechCrunch and reprinted over 150 times.