May 10, 2019
For three years, U.S. startup Uber and its Ukrainian counterpart Uklon ruled the local taxi industry with their mobile apps. But recently a strong challenger has appeared: Estonian startup Bolt.
In fact, it has re-appeared.
Bolt worked in Ukraine in 2016 under a different brand name: Taxify. But it couldn't withstand the competition and left the market. Two years later, it returned as Bolt after attracting $175 million in investment. Today, the company is valued at $1 billion, offers lower prices, and has managed to gain a share  of the market.
Bolt still has a long way to go. It trails behind Uber and Uklon in terms of the number of rides. But some Ukrainians – both drivers and clients – are already used to having three taxi apps on their smartphones.
The drivers use all three to maximize the number of their clients, while the clients go for the service with the better deal.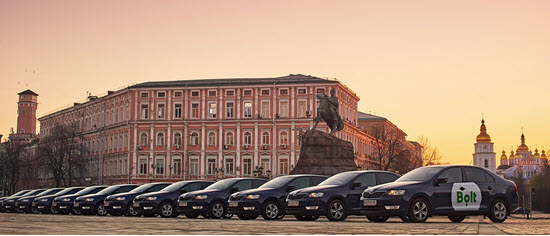 Globally, the startup has 25 million users across 30 countries and boasted revenues of $18 million in 2017. All the money, however, is being reinvested into growth. In Ukraine, for example, the startup plows the money it earns into rollouts in new cities. As a result, it is not yet profitable.
The rollouts are ongoing. On April 25, Bolt launched in Odesa, adding the city to its current locations of Kharkiv, Kyiv, and Lviv. Dnipro and Zaporizhia are next, along with numerous small cities where its competitors are not yet operating.
The name Bolt is new for the company — it only switched from being called Taxify in February 2019.
"It signifies the future, which is electric, and speed, which is one of our core values."