December 12, 2018
ELEKS was recognised for its contribution to the success of the PECB brand at the PECB Insights Conference, held on 24–26 October in Paris.
During the PECB Gala Night Ceremony, the ELEKS team was nominated for the EMEA audited business of the year award.
The ceremony was the second event of its kind, with awards presented based on merit to those individuals and organizations who, through their hard work and commitment, have spread PECB's mission and values around the world. This event was a celebration of the collective achievements of the past year, and ELEKS was a key part of it.
The nomination demonstrates the high quality of ELEKS' products and services, which we have achieved by ensuring greater consistency in the activities involved in providing them and by reducing expensive mistakes. Another key factor in ELEKS becoming a leader in the field has been an increase in efficiency by improving use of time and resources.
This award also demonstrates ELEKS' expertise in information security management systems, which helps us to respond to evolving security threats both in the external environment and within the organization, reduces costs associated with information security, and protects the confidentiality, integrity and availability of data with a set of policies, procedures, and technical and physical controls.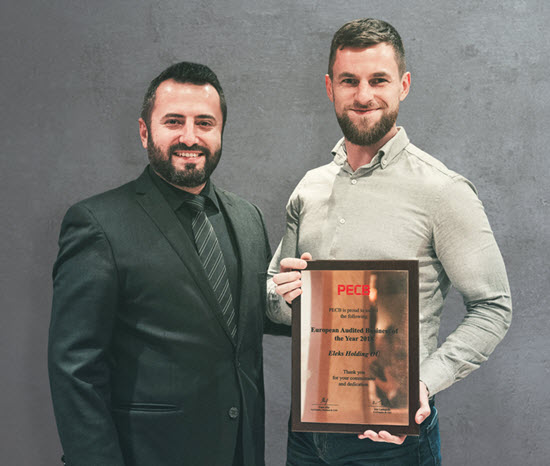 ELEKS is grateful for the commitment and dedication of our staff, which is one of the company's great assets. We hope that winning the award will encourage networking and collaboration between ELEKS and other professionals.
We would also like to express our gratitude to ELEKS PMG and Corporate Security for making that happen!
About the PECB Insights Conference
The 2018 PECB Insights Conference was a valuable opportunity to join discussions on Information Security, Governance, Risk and Compliance. This exclusive event, organized by PECB, aimed to create and expand the networking opportunities of the participants. By building bridges between experts of different industries, PECB is creating a community that is willing to embrace changes and join forces towards a safer world.
About ELEKS
ELEKS is a Top 100 Global Outsourcing company that provides expert software engineering and consultancy services. For over 27 years, we've worked as a software innovation partner to Fortune 500 companies, big enterprises and technology challengers. Our team of 1,400+ professionals provides a full range of IT services. The software products that we build help the world's leading brands transform their businesses, increase their revenues and save development time and operating costs.