September 25, 2014
Target Audience: CIOs and IT departments in insurance companies, internal customers, employees working with IT budget, willing to know how to properly dispose it and perform necessary tasks at the same time.
You are working in IT department of the insurance company, experiencing cuts of the IT budget, and you have received a request from the accounting department to create a new billing system and a list of required functionality, which requires three times higher budget. How to develop such system with decreased budget? Or you are a leading specialist in the insurance company, and to work effectively with customers you need to develop a calculator. IT Contractors raise prices for services, and the budget of your insurance company does not increase. What to do? One may say the insurance companies with a reduced budget in turbulent times can only survive and wait for better times. We say – not to survive, but to work in full force, develop and acquire new customers!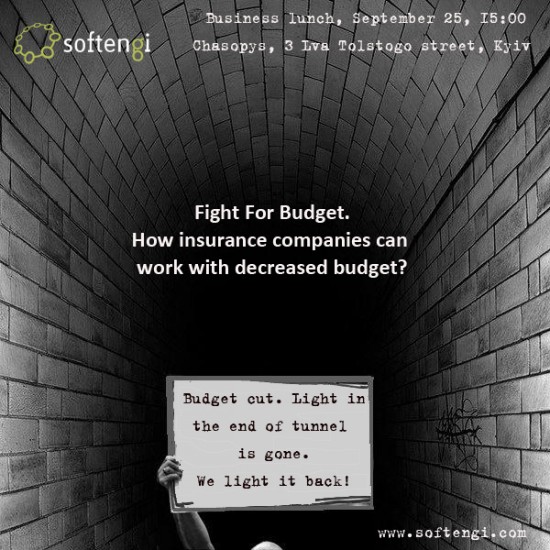 Softengi invites you to a business lunch, during which the representatives of insurance companies:
Learn how to work with the budget, while meeting the requirements of internal customers and reducing IT costs
Learn about new methodologies of new projects' development
See real cases of insurance companies
Come to the idea that budget cut is a space for creativity and invention.
No boring presentations and hidden sales of products. Only numbers, facts, real stories and tasty food.
Participation:
free, preliminary registration is required.
Place
: Chasopys creative space, 3 Lva Tolstoho street, Kyiv.
Date:
 September 25, start at 15:00. Duration – one hour.
Experts:
Denis Popko, Project Manager at Softengi, has experience in consulting and implementation of projects in the field of business process management and automation for insurance companies, banks, manufacturing companies. His customers include 7 out of the top 10 classic insurance companies of Ukraine. Experience in the design and implementation of specialized training in the analysis and modeling of the insurance portfolio, modeling and optimization of insurance business processes. Certified Project Management Professional, Certified ScrumMaster.
Anatoly Kot, Director of Projects and Programs at Softengi, in IT field since 1996. More than 40 projects successfully completed, successful implementation of projects in PZU, PK:RUECK, Zeppelin, UniCredit, JSC "Bank of Georgia», INTEL, Ukrtelecom. The project, implemented by Anatoly at JSC "Bank of Georgia", won the "Professional Award in the field of banking technologies, equipment and services – 2013″ international competition.
Softengi is a software development service provider. We enter the top 100 outsourcers of the The Global Outsourcing 100, a member of an international Intecracy Group consortium and is a Microsoft Gold Partner. Our goal is to provide services of the highest quality to ensure a competitive advantage of our customers. We are already working with such companies as Enviance Inc. (works with McDonalds, DuPont, Walmart, Chevron and FujiFilm), Ingersoll-Rand, Boeing, Peterbilt Inc., JSC "Bank of Georgia», Mettler Toledo, IMPAQ, IKEA, UniCredit, Zeppelin and other customers in the United States, Western Europe and the CIS.
Register
Source:
Softengi