June 27, 2019
Members of NGOs and nonprofits regularly need to leave the workplace to work with the local communities or vulnerable groups. As a result, sometimes they do not have an access to the CRM system and cannot find the necessary information on their cases during the fieldwork. People know that it`s really a problem if you cannot find what you need at your smartphone. That is why Agiliway has developed a mobile application for CiviCRM – CiviMobile – that allows organizational members to reach their CiviCRM databases anywhere and anytime.
Agiliway developed this mobile app only one year ago but CiviMobile has already attracted a number of clients and users. Today users can enjoy the benefits of the third version of CiviMobile where the event management became more interactive and still our team is working on adding more features in further release. Now users have opportunity to organize events in more consolidated way from participant registration to event check-in.
CiviMobile has turned into an accessible tool that can be used not only when working in the field, but for a day-to-day work with your CiviCRM system too. That`s why CiviMobile is a perfect solution for NGOs and non-profits because app is free and includes all information they need.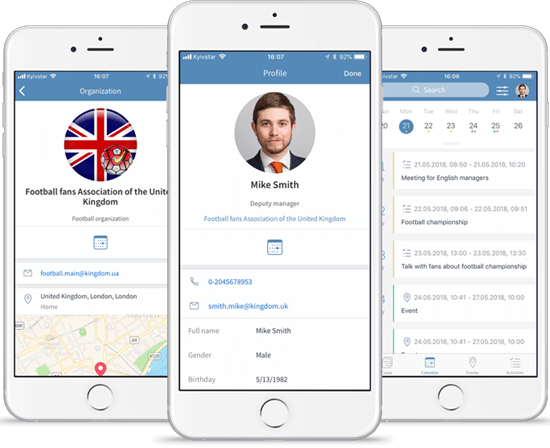 What is CiviMobile App and what features it includes? 
Contacts. The mobile application allows to access, add and edit the detailed contact information. Specifically, in one's profile, you may find the general contact information, phone numbers, emails, social media profiles and physical addresses, relationships, membership, contributions, and notes. You may easily find the right contact, as the app gives suggestions on the names you have started to type or pulls up the list of recent and popular contact searches. What remains to you is to choose the best way to reach out. With the mobile phone application, this may be as simple as dialing the person up or attaching the photo you have just taken to a contact.

Calendar. The graphical calendar of CiviMobile is close in style and functionality to the graphical CiviCalendar extension Agiliway has developed for CiviCRM users. The calendar consolidates all the planned cases, activities and events turning them into an actionable working plan for a day. The use of colors helps users to easily distinguish between various types of plans. Users can access the details on their plans directly from the calendar. Together with the option to edit and update cases, activities and events, this feature makes time management very convenient. For example, having a quick look on the plans, you can access those you will not actually accomplish that day and cancel, reschedule or mark them as completed right away.

Cases. Using the CiviMobile application, you can view a case and its details. Users can use a comprehensive filter to find the case or cases they are interested in. For example, you can filter all the cases by titles, types and dates. If the case has been resolved, you can update its status using the mobile app too. Another feature of CiviMobile Cases is the ability to assign activities to CiviCRM contacts on the go.

Activities. The CiviCRM mobile application allows to access and edit an activity (comprehensive filters for activities will help you easily find the one you are interested in) or create a new one anywhere and anytime. Assigning activities to yourself or other users, which is also possible using CiviMobile, is a way more helpful than making notes or reminding other people about what they have to do. First, relevant contacts are notified of the activities assigned to them and can see these at their calendars. Second, you can create activity for multiple users on the go, thus wasting no time for individual messages or calls.

Events. Using our CiviCRM mobile application, you can view all events hosted or recommended by your organization and register to it right away. Users are free to view their past and future events and access their details. A perceived advantage of a mobile use over a desktop is the ability to switch to navigation in just one click when looking for the location of the event. With events, you can also enjoy another common feature in the modern world – sharing an event to your friends and contacts outside of the CiviCRM system via email, a private message or social media.

Registration of others for an event. The previous version of CiviMobile allowed a user to register just oneself for an event. In the new version, you can also register others for both free and paid events assuming you have corresponding permission. Even more, you can register multiple participants at the same time, set up their roles, and select fee option (in case of a paid event). So now CiviMobile allows performing the same actions as a web version of CiviCRM with the difference that you can use CiviMobile everywhere, not only at your workplace.

Ticketing. After registering for an event, the system will generate a ticket with unique QR-code for each participant. A participant can view one's ticket at CiviMobile app and receive a copy of the ticket by email. Later you can show your ticket at the entrance of the event venue. QR-code will allow the event host to speed up the check-in process by scanning the code.

Viewing and managing participants. With the new version of CiviMobile, it got easier to track participants and check their statuses. You can see who is registered for an event and if you are the event host you can also add new participants or manage their statuses if necessary. Along with that, you can check the participant details and roles whether one is a speaker, volunteer, or attendee.

Check-in.  Another important feature of CiviMobile is Check-In screen. Here, the event host can quickly search for a needed participant and mark his attendance at the event just with one click. The system will update the participant status from "Registered" to "Attended". This functionality is fast and allows processing even a big flow of participants in a quick manner.  

QR-Code Scanner. But you can make the check-in process even faster by scanning participant's ticket with a QR scanner. You just need to switch CiviMobile into scan mode and the app will automatically read a unique QR-code on the ticket. It will find a required participant and mark his show-up at the event. There is no chance that CiviMobile will scan the same ticket twice or accept a ticket from another event. As a result, you can reduce workload, save time, and speed up the organizational processes.

Memberships. Using the CiviMobile app, you may check the status of your membership and renew it if necessary. The membership structure, conditions and dues will depend on personalized membership settings of your organization. You may also check the membership status of other contacts assuming you have enough privileges. Another important feature is the possibility to renew your membership from mobile device which may be very useful for external members, supporters, or users of your organization.

Contributions. Now CiviMobile allows tracking all contact payments and donations on a mobile device. On the contribution screen, you can see aggregated totals: the number of transactions and total and average sums you have paid this year and since your very first contribution. This quick data is followed by the history of your payments detailing the sum, the type of the payment, as well as the date, time and status of transaction.

Relationships. CiviCRM relationships are now available in CiviMobile. You can track relationships relating to other contacts as well as view case relationships and/or those relationships that are no longer active. In addition, you can create a new relationship choosing one of the types set in your CiviCRM system and selecting relevant contacts or, on the contrary, disable or delete some non-relevant relationships.

Notes. Using this feature, users are able to leave notes concerning particular contacts. Notes may be visible or hidden from all other users.
Other important updates include a Settings screen that allows customizing CiviMobile's work and view users' preferences. As for now, users can use it to set a start screen for the app (for example, Calendar, Cases or Events) and the language of an app. Now, they can choose one of the four languages including English, German, French and the Italian language. Still, we are also setting up an environment for other developers to contribute to the project by translating the application to other languages, so we expect the choice to increase soon.
CiviMobile provides a set of benefits for improving internal organizational processes and planning a working day. With all features, you can organize the contacts better, manage events and participants, control memberships and relationships. Having this app on the go gives an opportunity to reach anyone by simply with one fingertip and not worry about your agenda.