July 25, 2018
Have an idea and want to make hardware devices that can be sold globally? Ukrainian startup Concepter can give you some advice.
For around five years, Concepter has been successfully producing its own hardware, such as two generations of its gadget iBlazr, a wireless flash that affixes to a smartphone to snap better-lit photos. The startup crowdfunded a total of $400,000 for the gadget, which was then successfully sold in Europe's Apple Inc. stores.
With this experience, Concepter has become a consulting and venture capital firm that now mentors other hardware startups to help them make gadgets from scratch. It offers seed funding, engineering, crowdfunding, and mentorship assistance, as well as market research, and product promotion.
Concepter had been selling iBlazr for three years. But despite the sales success, its CEO Vlad Tislenko understood that making and selling hardware accessories is not something he'd like to do forever.
"You can earn decent money selling gadgets, but it's always a chase for innovation," Tislenko told the Kyiv Post, citing the example of Apple's bestselling iPhone 6, which came out three years ago and which few people now buy. Hardware gadgets have life cycles that sometimes last for less than a year.
"I didn't want to build a company of hamsters on wheels," he said. "I wanted something bigger."
So Tislenko transformed Concepter into a local startup studio space that brings the "best startup ideas to life."
During only six months, around 150 teams – both local and foreign – came to Concepter with their startup concepts.
Positioning itself as both a consulting firm and a business accelerator for about a year, Concepter has already helped its portfolio startups to raise over $1 million. Now it guides them through marketing and production in China.
Today the company mentors and funds 10 companies.
This includes Delfast, a startup that makes electronic bikes capable of covering 236 miles during a single charge, as well as Lunecase, a smart iPhone case that uses the phone's energy field as its only power source to deliver notifications about incoming calls based on the wavelength of a cell signal.
Apart from hardware startups, Concepter is also helping two non-hardware firms – clothing-retail company Riot Division and Futo, which produces air mattresses that inflate without a pump.
Concepter charges for its consulting services or writes a $20,000 check in return for a 10-percent stake in budding startups. And if it organizes a Kickstarter campaign, it takes 10 percent of the crowdfunded money.
After multiple years on the market, Concepter has a range of partners who can assist startups, including Petcube founder and CEO Yaroslav Azhnyuk, Microsoft software developer Sergii Poplavskiy, and venture capitalist Ali Kutay Yarali.
Additionally, Concepter partners with Microsoft, DepositPhotos, Fablab Fabricator, and Zendesk – tech companies that give startups discounts on products needed to start a tech business.
This year, Concepter has a budget of $100,000 to invest into five new startups. This money was given to the company by household and hygiene goods producer Biosphere Corporation.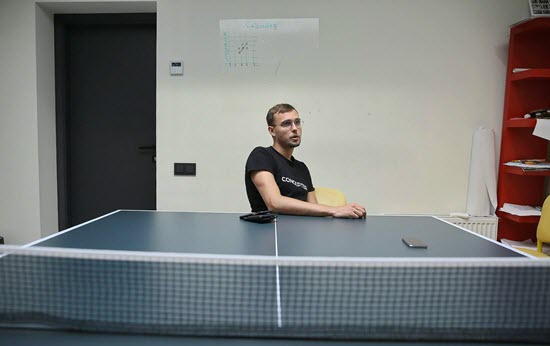 Failure leads to success
Donetsk-born Tislenko started Concepter five years ago, at the age of 23.
After studying business management at King's College London, he borrowed around $10,000 from friends and family to start his company. Since then, his startup has grown into a 30-person tech firm that Tislenko believes can be sold for as much as $4 million.
He says that the high price comes from the talented team, stable turnover, revenue, and equity in different startups.
Concepter de facto is based in Kyiv's innovation park Unit.City, but has its de jure headquarters in New York City's Brooklyn neighborhood.
However, the road to success wasn't all smooth for Concepter. While it was making good money with iBlazr, it also started pouring money into other ideas: wireless headphones, smart cases for iPhones, and a mobile app called "Soul" for tracking and managing time. None of the ideas took off.
During this process, they lost a lot of money. Concepter "burnt" $100,000 on developing and launching the "Soul" app alone.
Now Tislenko believes that if a company has to fail, it should fail fast. Hence, he helps his clients to make a prototype very quickly, see the reaction on the market, and only then act accordingly – either raising money and developing the product or killing the idea.
Tislenko is fine with failing, as he thinks that it helped his company and can help others: "The maximum peak of personal development – as well as the development of a firm – happens precisely in times of extreme stress.
"The lessons we learned give us the confidence to help others create outstanding startups," he said. "We know very well what you should not do if you're a startupper."
Source: Kyiv Post