October 5, 2017
LVIV, Ukraine – It's important for Ukrainians to build more of their own companies both to boost the country's economy and the image of the nation on the global tech scene, according to Yaroslav Azhnyuk, the CEO of IT company Petcube.
And there's no need for Ukrainians to move abroad – Ukraine itself is the best place to start a tech business, Azhnyuk told attendees of IT Arena conference in Lviv on Sept. 30.
Petcube is well known around the globe as the maker of a remote-control toy for pets. Azhnyuk is proud of his achievement but said he would be even prouder if there were more Ukrainian companies like his on the global market.
Going global
In fact, Azhnyuk's Petcube has ceased to be just a local tech startup – it is now a successful company with offices in the United States, China, and Ukraine, with $4 million in funding. It's been a partner of movie making giant Universal Studios; and the creator of one of the favorite toys of Hollywood star Emma Watson.
Azhnyuk said Ukraine needs to build up its own companies as a question of national security. Independence doesn't just mean full sovereignty, and territorial and political independence – a country can't succeed if it is not economically healthy.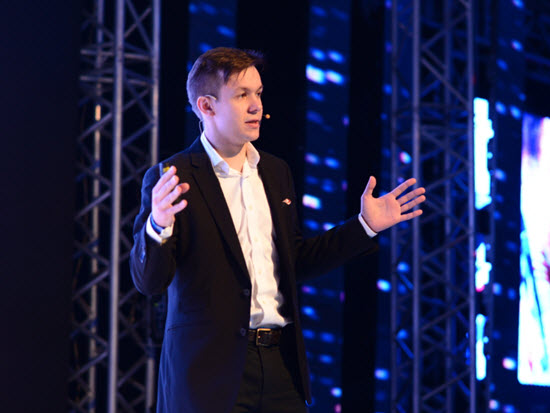 "It's impossible to be truly independent if you don't have a wealthy nation,"
                                                                                                                                    Azhnyuk said.
He sees domestic private business as a tool to create this wealth. And if more companies represent Ukraine globally, more people will get to know about the country, he says.
"You can build a much stronger nation if you create products that bring value to the world. Other people usually recognize a country because of the products a particular country produces."
                                                                                                                                   he added.
People know Germany for its cars, the United States for its computer technologies, and China for its electronics, he said, so Ukrainians should create new companies and target global markets. Being content with the domestic market is no longer an option:
"It's just a waste of talent when companies target the small cities, towns, and villages in which they live, and don't go any further – global markets are where the real money is."
                                                                                                                                  Azhnyuk said.
Good location
But while aiming for global markets, however, there's no need to up sticks and start a company in another country, Azhnyuk said.
"Ukraine is the best place in the world to start a technology company. We have some of the world's best tech talents (not only in IT), and much lower research and development costs. There are maybe a dozen countries in the world that can build an airplane, and Ukraine is one of them. It requires expertise – and Ukraine has it. Besides, Ukraine has world's lowest wage costs per educated person. You can hire five times as many engineers in Ukraine as in the United States. There's huge potential hidden in this nation."
                                                                                                                                   he added.
Risks in Ukraine
Ukraine hasn't had sovereignty for many years historically, but over last 26 years of its independence, there have been two revolutions.
"That's because Ukrainians are not happy with how things are going. They try to prove the world they can do better. So I think that when you combine all advantages, you get a very compelling position to be one of the most powerful countries in terms of producing technological innovations."
                                                                                                                                  Azhnyuk said.
He agrees, however, there are risks, including from corruption and geopolitical factors.
Azhnyuk said furniture retail company IKEA and clothing-retail firm H&M (both Swedish) are not entering Ukraine because they see corruption and a comparatively small market here. Rather than trying to persuade them to come here, Ukraine should set up its own such companies, he said.
"We should create something of our own too (to compete with them)."
And apart from the clothing and furniture markets, Azhnyuk suggested Ukrainians should start up companies in robotics, heavy industry, transportation, space, and manufacturing – industries he said were open for development in Ukraine and globally.
"To create a company one should look for areas in which innovations stopped a long time ago."
After choosing an area, tech startups should be prepared for a low success rate – not all ideas succeed. In fact, Azhnyuk said, the percentage of successes is generally quite low – about 1 percent.
"To build 100 successful companies in Ukraine, we need to fund at least 10,000."
So Ukraine had better start now, he said.
Source: Public Media