July 22, 2017
Newly founded Ukrainian tech company Nimses wants to turn all the time that people waste online into pure profit.
The plan? A smartphone social media application that creates one unit of a privately developed currency for each minute that the user spends online.
Nimses' founders see the massive amount of time that people spend online — young people spend up to nine hours a day on social media — as a potential gold mine.
"We have digitized every minute of people's lives and created a new value that has never existed before,"
said Nimses Chief Marketing Officer Andrii Sirchenko in an interview with the Kyiv Post.
The application features geolocation – it tracks the user's location and allows them to interact with other users within a 2-kilometer radius.
Next generation
Nimses grew out of sociological research into how people interact with the internet.
According to Sirchenko, the internet was initially created to be the world's data hub, but turned out to be a platform for a younger generation "already born with smartphones" and "used to having conversations online."
For them, he says, the online and offline worlds have already merged into one.
"Humanity has created an environment of data exchange: we've never been so close to each other in terms of communication. Yet we've turned inward,"
                                                                                                                                          he said.
Instead of communicating, people compare themselves with online images of other people on the web and try to create a beautiful image themselves, addicting themselves to online forms of approval, such as "likes" on Facebook, Sirchenko said.
"We check 'likes' all the time; they're important for us because they mean 'I know that you know that I have something, or I've been somewhere,"
Sirchenko said, adding that in reality, those likes represent both time and attention.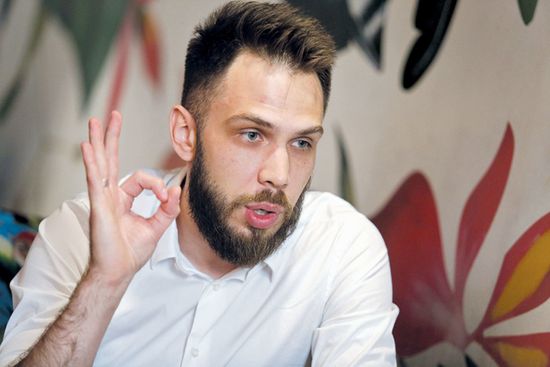 Time as currency
Sirchenko's vision is to monetize modern people's need for approval.
Eight years after the idea appeared, Nimses has created an app, in which every minute equals one digital coin, called a nimse.
Sirchenko claims that all the other cryptocurrencies which currently exist are nothing but financial bubbles with no real world value except for the trust that users place in them.
Since the nimse is pegged to a minute of internet use, Sirchenko argued, it has real-world value.
A life's worth
Spending a long life entirely on the internet — 95 years or 50 million minutes — would earn a user 50 million nimses.
People, however, can get nimses via other approaches. Receiving "likes" grant users nimses.
The Nimses developers claim that 1,000 nimses are worth $1, but this assessment is subjective.
In Kyiv, the currency is beginning to gain some traction.
Green 13, a cafe and restaurant, sells vegan rolls for 10,000 nimses. The café's owner, Volodymyr Evlakh, said that the first buyers who paid with nimses came in 20 minutes after he announced on Facebook that he would accept the currency as payment.
Kyiv restaurant Pizza Place in turn offers a pizza for 4,320 nimses and coffee for 1,440. Most of the Kyiv venues that decided to accept nimses, however, sell only a limited amount of goods paid with them per day.
An online store called Nimses Goods is also in the works, where people will be able to buy food, clothes, footwear, and more using the online currency. It also plans to launch Nimses Music, which will work as a music streaming service paid for by the digital money.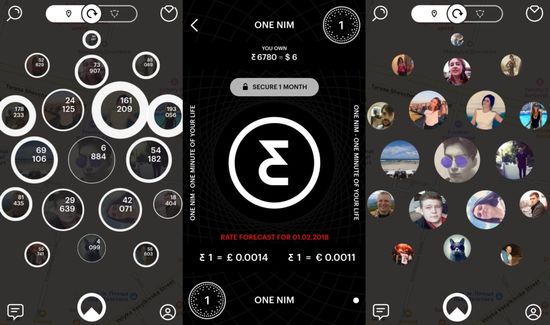 Spread
The startup has gotten 2 million downloads in the CIS, and is now moving to expand to western countries like the United States.
The startup made its smartphone application available on iTunes and Google Play for most of the former Soviet Union in February, but the official launch, according to Sirchenko, happened on June 1, when people started to share promo codes on Facebook, Twitter, and Instagram.
Currently, the startup operates in Ukraine, Latvia, Azerbaijan, Russia, Belarus, and Lithuania.
In Ukraine, many called the app an alternative to Russian social networks, the most popular of which — VKontakte and Odnoklassniki — were banned and blocked in Ukraine as part of the sanctions measures against Russia starting May this year.
The Nimses app was trending on iTunes in the region, but in July, started to fade away. Sirchenko blames the hitch on the company turning off all of its marketing tools to focus on a worldwide launch.
"Apart from (different) languages, there is a different internet culture in each region,"
                                                                                                                                       Sirchenko said.
Source: KyivPost