January 21, 2017
On January 21 in Lviv, a far-reaching conference for game developers GameDev Conference Lviv 2017 will gather over 500 participants.
About 50 professionals – developers, designers, publishers, and owners of studios from Ukraine, the USA, Romania, Poland, Belarus, and other countries, which are ranked the first in game-development – will share their experience. Among them, there are representatives of such companies as CD Projekt RED, Amazon,  TinyBuild, Ubisoft, SoftServe, BozkaGames, Wargaming, Crystal Clear Soft, Vile Monarch, iLogos, Self Employer,  Gameloft, 5000BC, etc.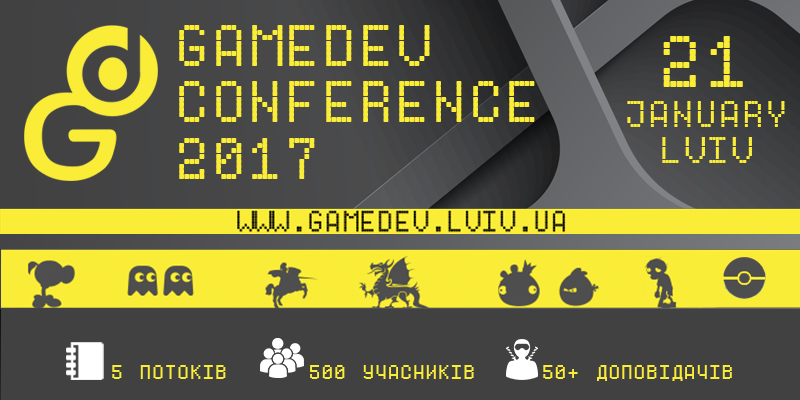 5 thematic streams are waiting for participants:
GameDev Business – on monetization and localization of games, organising game-studios, motivation of employees, etc.  
GameDev Tech –  on peculiarities of operating with game engines, game mechanisms, and technical issues of game development.
GameDev Art – on creating colourful graphics, quality sound, original characters.
GameDev Indie – on experience of independent developers: stories of success and failure, methods of fast promotion, useful instruments and life hacks.
Workshops – certain topics require more detailed consideration than it is possible during a half-hour speech. This stream is especially for the workshops where something new can be learnt directly on the site.
During the conference, Unity 3d certification will be carried out for the first time in Ukraine. Participants of GameDev Conference Lviv 2017 will have a possibility to register and undergo Unity 3d certification which validates relevant knowledge of a developer.
The conference agenda will be complemented with the game part: show cases and presentations of games-finalists of Ukrainian Game Award.