April 27, 2017 - April 28, 2017
27-28 April 2017 will be held 6th International ICT business conference for owners and managers of IT-companies Outsource People 2017 Krakow.
Outsource People is a two day specialized conference which will inspire you and give you the key ideas to bring the business to a new level.
The conference gathers representatives of the top management of small and medium IT-companies to exchange experience and business contacts. We expect 300 participants: CEOs, Sales Managers, BizDev, Marketing Managers and Project Managers.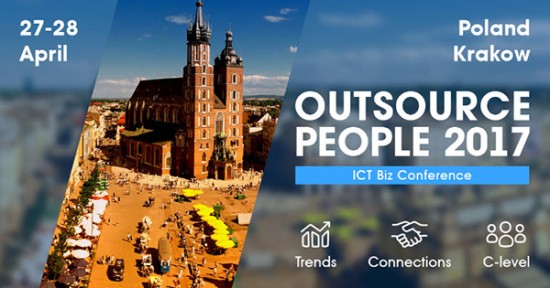 Outsource People 2017 Krakow will be held to promote the development and long-term cooperation of Polish and Ukrainian outsourcing software development companies. Krakow was chosen for a reason: this city is the leader among IT outsourcing centers in Central and Eastern Europe according to the Tholons Top 100 Outsourcing destinations.
We invited successful entrepreneurs and experts to speak, so that you get practical knowledge and avoid mistakes in the management of the company as well as find partners for joint projects and meet colleagues. The speeches will be given simultaneously: Business Strategy and Sales & Marketing.
Details of the program and online registration: http://outsource-people.com/
Follow our event on Facebook: https://www.facebook.com/events/1445732915493325/
Organizers: Bright Outsource, consulting agency for IT-companies.
See you in Krakow!